When you arrive at our secure front gate, you will see the Office immediately on your right.
Next, you should be aware we have three buildings that are shown below with a brief description.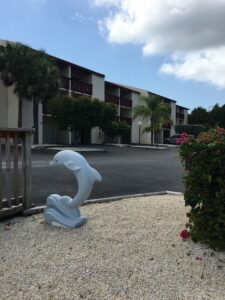 This building has ten units as well as the office and comprises units A1-A10. The front gate is on the near side of the picture and the far end of the picture is very near the water in the Adams Cut. This Cut connects Blackwater Sound to Pennecamp Park Area and then to the Atlantic Ocean.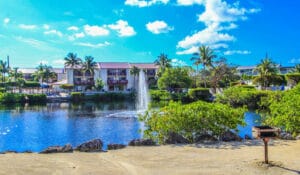 This building has six units, B1-B6. The view from the back side of this building is beautiful as is the front view from most of building A.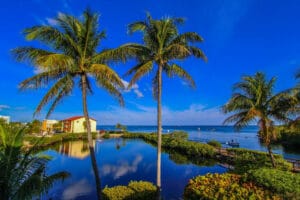 The C Building contains two units, C1 and C2. It sits remote from the other units and is only a few feet away from the water of Blackwater Sound.
The pool area at Florida Bay Club, has some of the best views day and night in Key Largo.
From the far end of the pool area, there is a little gate, this will take you to the little beach area, where you can sit and read or just enjoy the view.
Florida Bay Club Gym, can be reached from this area, we also have a Tennis Court, games area with Horseshoes and Corn-hole games.
Last, but certainly not the least important is our Boardwalk and Docks for fishing and Shrimping and catching Lobster, if the Season allows it, or just sit and see the wildlife and natural beauty of the Keys.